WhatsBlueText is the first android app in that allows you to write blue coloured font on social media websites like (facebook messenger, Instagram) and Instant messengers (Hike, BBM and Whatsapp). Few days back Whatapp has officially rolled an update in which it added a feature of text decoration using bold and italic styles. But now you can also write message, name and Whatsapp status in blue color font. Make sure that, it is neither an official update nor a part of  Whatsapp INC.
WhatsBlueText is not sponsored, endorsed, or affiliated with WHATSAPP messenger INC.
How to use WhatsBlueText?
It is a very simple fancy text generator app like other available apps on the internet. But it is unique due to cool blue font feature. Yes!!! You can get this amazing stylish blue color font in app for free.
Follow the simple steps to use WhatsBlueText application for messenging, Status update and Name Change.
Go to Google Play store and download WhatsBlueText Stylish Font App.
Install.
You will see two text box on top. Type anything in first text box.

Surprisingly you will see a stylish blue colour font in next text box.
Tap on that text box to copy blue coloured text.
You need to invite 7 friends to use this app or Purchase a pro version to skip the invite.
Once you invite 7 friends, you will be automatically redirected to Pro version without paying a single penny.
Now you can enjoy the fancy 25+ styled text for free.
How to use Blue Colored Text as a Whatsapp Status?
WhatsBluetext is live now to write to write Whatsapp status in blue colored font. People are always crazy about do something different than others, keeping the same idea in mind. we come up with an interesting app which allows Android users to write blue coluor whatsapp status.
Whatsbluetext is a free app to write 25+ different stylish fonts in social media like Facebook, twitter, Instagram as well instant messaging services like hike, whatsapp and BBM as well.
Blue Colored Font as Whatsapp Status.
Follow the simple steps to decorate your whatsapp status in blue color.
Step 1 : Download WhatsBlueText App.
Step 2 : You need to invite 7 friends to use this app or Purchase a pro version to skip the invite.
Step 3 : You be on pro page after invite/purchase.
Step 4 : Write your desired status.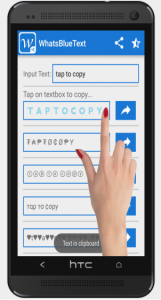 Step 3 : Copy the Blue Colored font by taping on text box.
Step 4: Go to WhatsApp >> Status > > Click on Pencil icon.
Step 5 : Paste it !
Step 6 : Whoilaaa Its Done !!!
Now you can ask your friends to check your stylish blue colour whats app status.
For India Readers, Holi Festival is within a day or two, So you can play colorful holi on whatsapp using WhatsBlueText.